MF Digital
5600 videoLIVE
Event Recorder
Professional videoLIVE recorder and copier with state-of-the-art features for live video event capture & duplication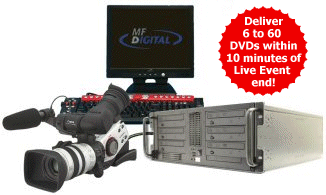 View Product Brochure
View User Manual (coming soon)
The 5600 Series Live Video event recorder and duplicator advances the method of capturing and duplicating video. Highly streamlined work flow allows you to go quickly and easily from capturing video to the production of DVDs in quantity, all within minutes of the end of an event.
Ideal for any venue, the live video event recorder is a "must have" for producing high quality DVD copies. Designed in a space saving rack-mount enclosure the VideoLIVE is not only compact, but expandable. Easily connect multiple units to increase production from 6 to 60 drives, yet control everything from a single console.
| | | |
| --- | --- | --- |
| Record Directly to System | Record directly from any digital video recording source. | |
| Record Hours of Video | Record countless hours of video DVD quality directly to system. Duplicate at any time. | |
| Ease of Use | Simple wizard software and one-click duplicating for even the most novice users. | |
| Pro Features | DVD menus, various chaptering options and first play audio/video for professional DVDs just-in-time. | |
| Built-in PC | KVM System with PC built inside. Simply connect Keyboard, Video and Mouse and record LIVE! | |
| Networkable | Gigabit Ethernet allows you to retrieve additional content from anywhere on your network quickly. | |
| Ideal for Live Venues | Great for church events, corporate seminar, court deposition or live concerts! | |
| Expandable System | Start with a 6 drive system and increase production to 60 drives by adding expansion units. | |

The 5600 Live offers the ability to expand your duplicators. The Live Event Recorder system becomes a fully automated production system. Start with 4 or 6 drive master system and easily expand with 6 drive slave units. Growing your production anywhere from 4 to 60 drives is as simple as adding a 5600 copy module slave.

The 5600 video Live Series is an end-to-end automated DVD authoring solution that offers real-time video/audio capture, recording and multidrive duplication of DVDs during live events.
5600 videoLive Duplicator Configuration Options:
6 drive rack mountable configuration
Expandable 6 drive rack mount slave units
2nd and 3rd year extended warranties available.
Download Product Brochure: 5600 Series videoLive Event Duplicator Recorder (.pdf)
5600 Series videoLive Firmware Update Page
5600 Series Product Manual Page (coming soon)