DVD / CD Tower Duplicators,
Affordable Production, Duplicators
5906 DVD CD
Expandable Tower
6 to 60 Drive System More Info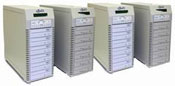 Experience high-end professional CD DVD copier tower modules. Truly in a class by themselves, the MF Digital network towers are engineered for professional users. Network ready for remote access or multiple unit configuration, perform live audio recordings for immediate disc duplication or accept video feed for on-site mass duplication.
5907VL Copier Tower
7 Drive Value Line
Duplicator System More Info

The 5907VL is a high-performance value priced stand-alone CD DVD copier. These duplication stand-alone towers are perfect for single tower needs. Beginners and advance users alike will find the system useful because of its speed, accuracy and reliability. Ergonomically designed for maximum comfort and ease-of-use, the 5907VL is the perfect everyday tower copier.

MF Digital
CD DVD Towers

Sales Assistance
Contact Us Now
Rapid Response
Contact Form
Standalone and
Network Ready
Solutions