MF Digital
Medical Disc System
Sales Assistance
Contact Us Now
Rapid Response
Contact Form
View DICOM Software Screen Shot


MDS 2000 -
Medical Disc Systems
The MDS 2000 line of Medical Disc Imaging Series are powerful DVD CD workflow systems offering a full line of configurable DICOM Burner compatible solutions with PC "Built-In design. Our flexible printer options allow you to choose the system best designed for your environment.
The options offered by the MDS 2000 Medical Disc Series provide unsurpassed performance and reliability for physicians, staff and technologists to maintain, distribute and archive medical records. Priced competitively; our 24/7 mission critical unattended Medical Disc Systems will improve workflow, enhance patient care and reduce costs.
MDS 2000 DICOM Imager Medical Disc System Advanced Features:
| | | |
| --- | --- | --- |
| Supports DICOM Imaging | Network ready to receive images from digital modalities, diagnostic workstations, or a PACS | |
| Full DICOM Image Support | MF Digital's Dicom Imaging solutions are 100% compatible with IHE Portable Data image profiles | |
| DICOM Viewer Image Support | Physician Diagnostic DISCs with compliant embedded DICOM Viewer for PACS experience | |
| Configure User Profiles | Full Network profile support to assign specific privileges and rights to system users. | |
| HIPAA Security | Privacy and security features which include password protection and administrative management. | |
| Print Customized Labels | Print dynamic information such as Patient ID, Patient Name, Study Description, Institution etc. | |
| Printing | Offers low hardware entry cost with a waterproof, smudge proof, resilient ink-jet printable disc media for permanent disc printing | |
| Thermal Printing | Reduces operator attendance by allowing 2000 permanent thermal prints per ribbon prior to changing. | |
| Complete Job Log | Full record activity in text job log and (.csv) database for analysis of equipment activity and media consumption. Advanced tracking with Email alerts on jobs submitted. | |
| Easy To Use Wizard | Simple wizard software interface to standardize procedures of DISC creation. | |
| Disaster Recovery Option | Secure all system data with built-in recovery utilities - initiate at any time for complete recovery | |
| Mission Critical 24/7 Mechanism | Complete with available HOT SWAP service program for guaranteed uninterrupted service | |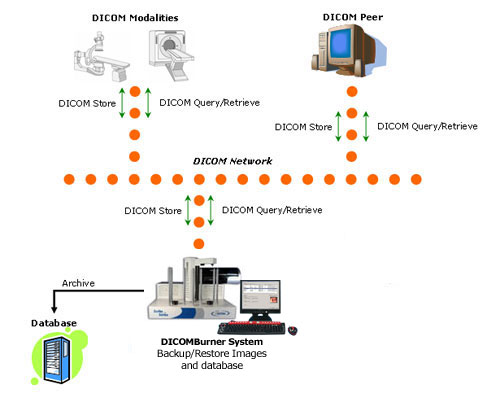 Industry Standard HP Printing
Based off the renowned disc printing technologies developed by Hewlett Packard, the Medical Disc System from MF Digital produces durable, permanent and resilient prints ideal for Medical applications. Combine the award winning technology of HP with waterproof media for a disc labeling system second to none.
DICOM Medical Disc System:
The modern PACS (Picture Archiving and Communication System) digital revolution appears to offer significant savings in terms of variable costs. Nevertheless, the film-less technology is a real advantage if there is the ability to extract the PACS information and burn it to CDs or DVDs containing imaging studies for referring physicians, patients review in the operating room, conferences and research collaborations. In addition, CDs are efficient storage media for clinics and small imaging centers that do not archive images on a PACS.
MF Digital's DICOM Burner Medical Disc System is intended as a means to produce digital media containing medical images, to be provided to patients in substitution of the traditional film hard copies of the exams. Also the produced media can be used to exchange DICOM images between non-connected PACS or DICOM workstations.
MDS 2000 DICOM Imager Series Configuration Options:
MF Digital provides configuration options to enhance the performance of your DICOM Imaging. Configuration options include:
Hot Swap Service available
2nd and 3rd year extended warranties available
Download Product Brochure:
Director DICOM Imaging Publisher
(.pdf)
View
Material Safety Data Sheet
for Picojet HP printer (.pdf)

More Info