Ripstation 7000 Series
CD DVD BD
Law DataMigrator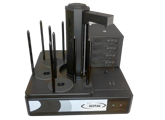 Law DataMigrator:
Ripstation 7000 series is A Fully Automated System Designed to Move Physical CD DVD Based Client and Legal Records onto On-Line Disc Based Storage, Fast and with Minimal Operator Input.

MF Digitals Law DataMigrator series brings full automation to the process of transferring stored Optical Disc (CD / DVD) image and data records to on line hard disc based storage.

Make records, exhibits and client information accessible, indexable and available on demand, from any data retrieval system.
DataMigrator will take any data DVD, data CD or data BD* and create a bit for bit copy of the discs file structure from the source disc itself, creating a local or even network copy for use in archive or backup applications. We check it for integrity, provide detauled reporting and have an open, flexible third party interface so you can tie the entire process into your records access system.
Its all fully automated - load 400 discs and go - save time, money and operator costs by deploying the worlds leading physical disc migration solution.
A simple workflow moves your physical media to any form of on line storage system or index - your organisation benefits from instant access to records and files: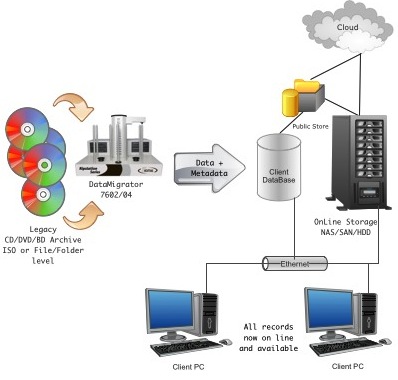 Ripstation is in wide spread use throughout the world with national archives, government organizations, media companies, Military and Fortune 500 companies. Ripstation DataMigrator provides unsurpassed performance and reliability;
Legal Records Solutions Provider? Contact us and we will show you how this fits in your workflow for your target storage and indexing system.
Need more detailed information? Check out our tech spec pages
*Ripstation now offers optional Blu-ray support on all of its models ensuring support for all media types.
© MF DIGITAL
a division of Formats Unlimited, Inc.
All Rights Reserved
Phone 631-249-9393 Fax 631-249-9273
Manufacturer of KVM, DVD / CD Duplicators