We will offer you a generous trade in value against a new Scribe or Director System against any MF Digital, Rimage, R-quest, Vinpower, Verity, Microboards, Allpro or Primera system.
* All trademarks and names acknowledged to their respective owners
BD CD DVD Duplicators
View configurations
and specifications
for Director Series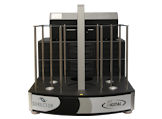 2000 Series

"KVM" systems Network CD DVD Publisher PLUS.
Choice of 2 & 4 Drive Blu-ray and DVD CD Publishers.
DVD CD Publishers to Create & Print Unique, One Off Customized Content Discs with our simple text based API for DVD CD publishing.

The Director 2 and 4 Drive DVD CD Publishers offers multiple options. Select the model that fits all of your DVD CD publishing needs.

The Director series is a "KVM" system with a built in PC. Simply add a keyboard, monitor and mouse for full standalone operation.

With Director, user designed CD DVD published custom discs are a snap. Simply use our text based API
Do not need or want to pay for customized disc content ability? Check Out Our Scribe DVD CD Duplicators
Director System Key Features:
Large 400 Disc Capacity

2 & 4 Drive CD/DVD or Blu-ray recorders
Allowing Multi-drive simultaneous asynchronous publishing with up to four unique DVD CD publishing jobs
Embedded PC Production Server:
System does not require an external PC for operation – all applications are self-contained utilizing an internal Production Server complete with Windows PRO Operating System
Flexible operation options:
Works as a complete DVD CD publishing system with unique one-off disc creation capability
DVD CD Publishing Job Streaming via drop-in request folder
A full asynchronous operation DVD CD Publisher for fastest performance possible
DVD CD Publishing Software Features:
Simple User Interface
The unit comes standard with industry acclaimed Director One-Off DVD CD publishing software
EasiAPI  For creating applications, available on request
Simple ASCII text files allow you to easily write your own application to act as a "front-end"  to fully automate customized content disc creation and job submission  
Jobs are submitted simply by dropping a .JOB file to a polled folder.
No knowledge of disc authoring or disc format structure is needed.
Allows the integration of the Director into such applications as check imaging, document imaging, POS kiosks for audio and video, data archiving, billing discs, and call center digital recording systems for DVD CD published discs.
Director API includes enterprise wide network licensing.
Supports multiple users and user profiles
Limit who can use the system as well has how many jobs per day, month or quarter as well as discs per job may be submitted by a given user.
Job Priority
The ability to set job priority to determine placement in the queue.
Pre-master data discs from files or folder found anywhere on your network or local system.
Dedicated Prestage partition to allow prestaging of images while other jobs are running
CD-DA authoring from WAV or MP3.
Capable of ISRC, UPC Code, and sub-index editing with frame accurate recording.
DVD-Video discs may be made directly from title sets (VIDEO_TS folder), or a valid UDF DVD image file, with no need for a physical master.
Job Logging
All jobs are logged including all pertinent job information such as date, time, quantity, user, image, label, start time, completion time, and more.  Includes log viewer. Log database is also accessible via ODBC or DAO..
Optional License Free client software
Share the system and submit jobs for CD DVD publishing from anywhere on your network
Email notification system
Lifetime free software updates available
Update software and firmware automatically from the web.
Printing & Printing Software Related Features:
Inter-changeable printers include Inkjet, Thermal and Dye-Sub - Switch in and out - Choose your system based on your print needs and budget .
Built in label editor allows the user to

Create text and change attributes
Import graphics
Reposition and delete text, graphics and dates
Print from .LBL or .PDF files
Network Features:
Optional Free unlimited seat Network Client
Simple one step install client software allows access for any number of users on the same network
Internet Client
Our Optional free Scribe Client software may be used to submit jobs only in secure corporate or government networks with VPN, therefore providing the highest level of security. We do not offer a browser based client which is a known network security risk relying on open network ports, and more suited for commercial retail type applications.
Image Pre Stage
Queued Images are staged locally so queued jobs start instantly - no waiting for network transfers

Built in 1GB/s LAN
Fast and reliable network accessibility
Remote desktop support
Our support team can get access right to your desktop for fast and efficient support of your CD DVD publisher
Robotics Operation:
Hi-speed 24/7 operation:
Able to perform constantly 24 hours a day, 7 days a week without fear of overheating with quick reliable robotic operation.
Friendly Interface:
All job functions and system alerts operate in an easy to use and similar user interface for convenience and ease of use
Proven Technology
In business over 40 years and designed and manufactured in the USA our DVD CD publishers are renowned for their stability, performance and reliability.
Do not need one off unique DVD CD publishing ability? Check Out Our Scribe CD DVD Duplicators



Specifications
Disc capacity

400 disc

Print Options

Inkjet, Thermal, DyeSub

Number of drives

2 or 4

Drive Interface

SATA

Supported media
Blu-ray (with BD option)
DVDR Video (Unprotected) (DVD models only)
ISO / UDF Bridge (DVDR models only)
CD ROM Mode 1
CD Enhanced / Extra
Mixed Mode
Photo CD
Video CD
CD ROM XA Mode 2
ISO 9660
CD-I (Form 1 & Form 2)
Joliet
Romeo
Rockridge / UFS
HFS (MAC)
CD-DA (CD Digital Audio) w/ISRC Subindex & UPC code support
Hybrid ..... and more
Operating system
Windows PRO

Internal HDD

2602 - All 2 Drive CD DVD Publisher Models
1 each System Drive
1 each Image Drive

2604 - All 4 drive DVD CD Publisher Models
1 each System Drive
2 each Image Drives

Available DVD CD Publishers
2602 : 2-drive model CD & DVD
2604 : 2-drive model CD & DVD
BR3 2602 : 2-drive model Blu-ray CD & DVD Publisher
BR3 2604 : 4-drive model Blu-ray CD & DVD Publisher

Software
| | | |
| --- | --- | --- |
| Printing Options | Choose and swap your choice of Inkjet, Thermal and Dye Sub Re Transfer printers. | |
| Easy API | Simple ASCII text files can be used for automated job submission allowing easy development of related applications | |
| Network Support | Optional License Free client software - supplied enterprise wide | |
| Simple Job Submit | Drop a .REQ file to a polled folder to start | |
| Multiple User Support | Limit and manage all network users | |
| Job Priority placement | Select high priority jobs | |
| Job logging | Log date, time, quantity, user, image, label, start time, completion time, and access via ODBC drivers | |
| CD-DA Author | Including ISRC, UPC and sub-index edit from WAV or MP3 | |
| DVD Author | Author directly from VIDEO_TS or UDF Image | |
Flexible Options
Available Configuration Options for the unique one-off DVD CD Publisher Director Series:

2 and 4 Drive
Inkjet Printer
2602/04J
BluRay: BR3-2602/04J

2 and 4 Drive
Dye-Sub Printer
2602/04D
BluRay: BR3-2602/04D

2 and 4 Drive
Thermal Printer
(Refurbished Prism OEM)
2602/2604T
BluRay: BR3-2602/04T
Warranty
MF Digital provides a standard 1 year Return to Base (RTB) warranty, with options for extending the warranty as follows:
Extended 2nd year
Rapid Parts Exchange - if you need parts, we will send them fast
During your warranty period, we offer support from our locations in the US and the UK so whatever your time zone we are here to help. Support is available via email, telephone and remote desktop
Note - Rapid Exchange warranties are not available in all territories, please check with our sales team for availability and quotation.
Call us for custom tailored warrranty and service options.
FULL DETAILS OF OUR SYSTEM AND PRINTER WARRANTY POLICIES are available HERE