Video Live
5600 Series
eventDVD

View configurations
and specifications
for eventDVD

5600 series
Video Live Event Recorder/Duplicator Capture, edit and duplicate video from live events in minutes
The affordable 5600 Series Video Live Event Recorder / Duplicator system from MF Digital advances the art of capturing and duplicating live video direct to DVD for any event. Simple to use by design, with its advanced template pre production system, easily produce custom DVD's right at your event in minutes.
Whether it's a Church event, seminar, court deposition, trade show or live concert the Live Series from MF Digital combines pre production, chapter editing, encoding software plus duplication in one powerful system.The 5600 series Live Event recorder is a "must have" for producing high quality DVD productions directly from a single live video feed.
eventDVD is the complete solution:
Capture - Record video input from firewire or optional SDI source
Author - Setup templates in advance for pre production including menus and chapters
Burn - Burn two copies within minutes
Duplicate - Create multiple copies and expand your system to up to 42 drives to scale to your needs.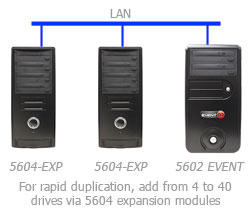 Designed in a space saving enclosure with two integrated CD/DVD drives, the 5600 Video Live Series is not only compact, but expandable. Easily connect 5604-EXP 4 drive expansion modules to increase production from 2 drives to 6 right up to 42 drives, controlling everything from a single console. Add an optional plug-in CD/DVD AutoPrinter to complete your production for a complete DVD workflow.
eventDVD ships with full pre production software built right in - allowing the user to set up DVD master templates and make changes on the fly to recordings - making eventDVD simply the fastest way to product customised 'hands-off' DVD video productions.
Live Event 5600 series Key Features:
Live Event 5500 series powerful software features:
Fully automated DVD pre production
Easily set up templates including DVD menus,themes, disc labels and chapter marks as a project and reuse them time and time again.
Point and Click User Interface
Intuitive control with inbuilt context sensitive help systems
DVD Authoring selections
Choose DVD menus, once play or looped format
Custom Chapter selections
Set chapters based on time, smart selection via scene selection, chaoter by segment or even by manual selection
Variable text insertion
Custom text such as titles, subtitles, dates and times can be added dynamically as part of your project template
First play additions
Add one play segments as a pre roll to the main content
Real time MPEG 2 encoding
User controlled segmented recording
Use the interface to start and stop live capture on demand and in real time.
Stability and ease of use is core to the design - by utilizing the Windows OS, and its intuituve pre production software, eventDVD allows even the most novice user to be an expert.
EventDVD grows with your needs, maximizes your production and streamlines your workflow. A cost effective, powerful Live DVD solution from industry leaders MF Digital

| | | |
| --- | --- | --- |
| | | |
| 5602 Front | 5602 back* | 5604-XP Expansion Unit |
*Back panel shown with OPTIONAL DecLink SDI Card
Need to capture Live Audio only? Check Out Our eventCD Series



Specification
Number of drives
5602 - 2
5604-EXP - 4
Drive Interface

SATA

Supported media
DVD +/- R
Operating system

Windows PRO

Internal HDD
5602 - 500GB
5604 - 500GB
Video Input
Firewire
Optional Video Inputs
DecLink SDI Card
Composite Card
Record capacity
100 Hours MPEG2
Interface
Just add Keyboard Video Mouse
Available Models
5602 : 2-drive base unit
5604-EXP : 4 drive expansion unit
Power

450 watt

Weight
5602 : 15lbs
5604 : 17lbs

Dimensions
5602 : 16" W x 14" H 7" D
5604 : 16.5" W x 16" H 7"D

Expansion Options
Expand your base 5602 system with the 5604-EXP 4 drive expansion module and instantly add the ability to duplicate additional copies.
Add multiple 5604 modules up to 42 drive total capacity, all controlled from the 5602 base module interface.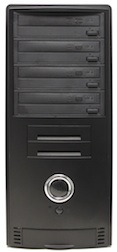 Video Input expansion
eventDVD ships as standard with dual Firewire inputs, but at time of ordering you can specify the DecLink SDI card or Composite inputs as additional cost options - just ask your Sales manager for pricing and more details.
Warranty
MF Digital provides a standard 1 year Return to Base (RTB) warranty, with options for extending the warranty as follows:
Extended 2nd year
Extended 2nd and 3rd year
Rapid Parts Exchange - if you need parts, we will send them fast
During your warranty period, we offer support from our locations in the US and the UK so whatever your time zone we are here to help. Support is available via email, telephone and remote desktop
Note - Rapid Exchange warranties are not available in all territories, please check with our sales team for availability and quotation.
Full details of our warranty are available here